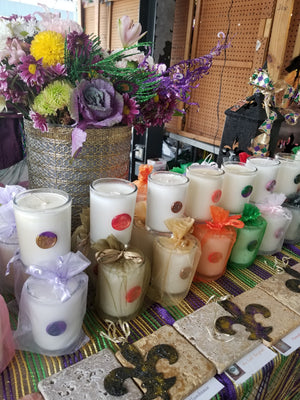 A Fragrance for Every Festival
In New Orleans, you smell the chicory coffee around every corner, your stomach grumbles as you zero in on the steaming hot beignets or a spicy hot jambalaya. NOLA takes its festivals seriously because Life is to be celebrated. And North Peters Street Candles captures every one with its own fragrance. Overdose on all the smells, sights, and sounds in the famous French Market while you visit...then take home a sensory reminder of your time in the Quarter.
Meet Rita Kranson Williams, Artisan Candlemaker
More than 20 years ago I began selling my illustrated poems at the French Market until it became a business rather than a passion.
Then I made handmade jewelry for another vendor who was a native New Orleanian. I ran his business all summer, and by the end of the season, I'd done so well that 30 other vendors asked me if I'd work with them! One of them was a candle maker.

I agreed, and after about 6 months of working together, we decided to open a storefront on Wilkinson Row in the French Quarter, in addition to working at the French Market. We became 50/50 partners…just in time for Hurricane Katrina!
READ MORE